<3MARRIAGE!<3

Taking the Quests!

Go to Angel Lyceum, and find "Marriage Angel", just outside the bank
Talk to him and take the 'Marriage Task'



Task for the Girl:



You are assigned to find the Dew Crystal in Mysterious Garden,
which is located at the lower right part of the map..



Talk to the flower




It will ask you to
kill 50 Flamimg Rose (the one that looks like a Lily in Lyceum)



Flaming Rose can be found in this part of the map



After you've killed 50 of them, go back to the talking flower and finish the task
then, talk to Marriage Angel back in the Angels Lyceum to obtain the Dew Crystal,
(after you got the Dew Crystal, you have to give it to your future husband, so he can complete
his quest)

Task for the Boy:




The highest cliff is located at the lower right corner of Cactus Plains
Just try to walk along that spot until a message pops out



It will ask you to get back the Magic Bottle from the Gebuer.



Just kill those ugly Gebuers until you get the bottle...
Gebuers can be found in Gebuer Vale *duh* at this spot



After you completed your task from that 'talking cliff', go back to Marriage Angel in
Angel Lyceum, and get the Sunlight Tear from him, (be sure you already have the Dew crystal
from your future wife, or else he wont give it to you)

Pick a church!
There are two types of ceremonies when getting married, the one is the "Simple Wedding"
and the other is the "Luxurious Wedding",
(Be sure that the Groom/boy have both the Sunlight Tear and the Dew Crystal before
talking to the Newbie Priest or to Abba.)
Having a Simple Wedding
Go to the upper left corner of Angel Church,
and find Newbie Priest to start the Ceremony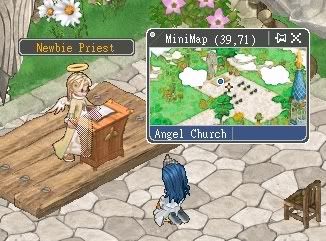 Having a Luxurious Wedding
Go to the main Church of Angel Church
and find Abba to start the Ceremony,
you will be needing the Luxurious Wedding Ticket
to be able to have a luxurious wedding
(available in Item Mall)
(NOTE)
*Dont buy a Dew Crystal from players or from anyone who sells them, because there will be a problem when talking to Newbie Priest or Abba, like "PLEASE PICK THE BRIDE blah blah" even though your bride is beside you, and you wont get married *terrible*.
If you do bought one, just delete the Dew Crystal, and get one your own, from taking bride's quest.*
enjoy :3/yct71
[
Last edited by killanjo at 11-26-2008 09:55
]